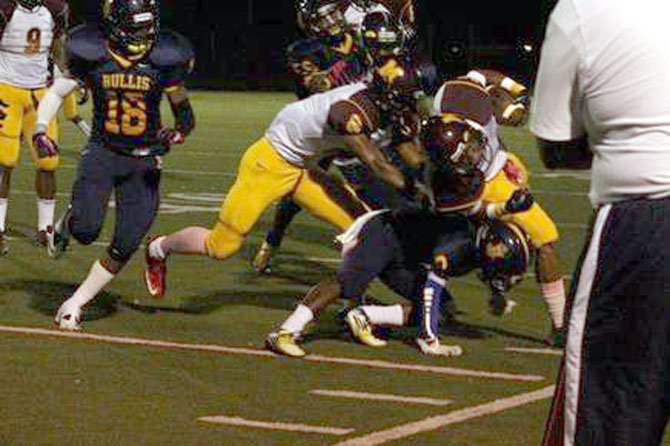 Potomac — On Oct. 5, Bullis School's homecoming football game between the Bullis Bulldogs and the Bishop McNamara Mustangs proved to be a heavyweight matchup between two of the area's better teams. After a close first half that ended with the Bulldogs leading 6-3, Bullis eventually pulled away to a 26-3 win.
Fueled by fumbles on both sides early, the game remained scoreless until late in the second quarter. McNamara then opened up the scoring with 3:30 to go with a short field goal for the 3-0 lead. However, after furiously running the ball early, Bullis head coach Pat Cilento opened up the passing game. Bullis immediately responded with a 21-yard touchdown from senior Danny Copeland to junior Kyven Jones. After a missed extra point, the Bulldogs took a 6-3 lead into the second half.
While the first half remained close, the second half was a completely different story. On the first play of the third quarter, Bullis junior Jindu Chiazor returned another McNamara fumble to the Mustangs' 1-yard line. Copeland would sneak into the end zone one play later and put the Bulldogs up, 12-3. On their next possession, the Bulldogs quickly marched into the end zone after Jones scored his second touchdown of the game on a 23-yard pass from Copeland. Later in the fourth quarter, Copeland found junior Noah Spriggs for his third touchdown pass of the day. However, it was Jones's five-catch 77-yard performances that led all receivers on the night.
This was Bullis School's third straight homecoming victory, which snapped a prior streak of five straight homecoming losses to the team from Falls Road. The streak is part of the turnaround to Bullis' football program, which has gone 14-1 in its last 15 games. To add to their success, Bullis has outscored opponents 186-39 in their first games this year. The 5-0 Bulldogs will go on to play the 5-1 St. Stephen's & St. Agnes Saints at 2 p.m. on Saturday, Oct. 13 in Alexandria.
"The season has started off great," said senior Jonathan Dyer. "However, we know that the tough games are just beginning. We can't wait to get into conference play."