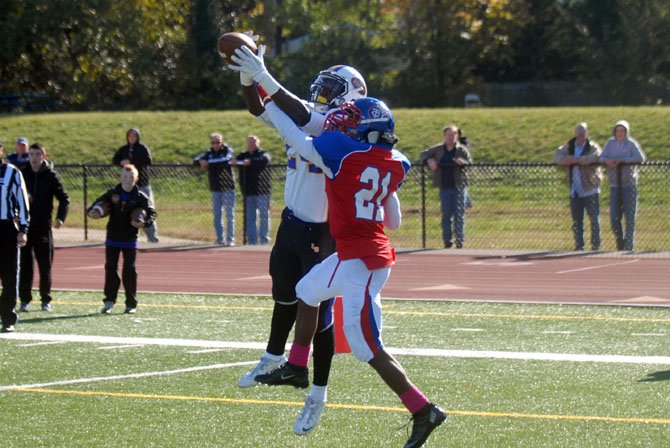 During his seven-year NFL career, Washington Redskins safety Brandon Meriweather's aggressive style of play has led to penalties, fines and a recent suspension for repeated helmet-to-helmet hits.
In a time of heightened awareness regarding head injuries in football, Meriweather's tackling techniques, which include launching himself head-first at opposing receivers, have earned the 29-year-old former first-round draft choice from the University of Miami a reputation as a dangerous defender.
Meriweather was flagged for two illegal hits against the Chicago Bears and subsequently suspended by the NFL for two games. The ban was later reduced to a single contest, costing Meriweather a game check worth more than $70,000. Meriweather sat out of Washington's Oct. 27 game against Denver and returned for its Nov. 3 contest against San Diego.
NFL players aren't the only ones taking notice of the Redskins safety's approach to defense.
Just ask Philip Tyler, a senior defensive back at T.C. Williams High School in Alexandria, if he's familiar with Meriweather.
"The hunter?" he asks.
Tyler, a Philadelphia Eagles fan, is familiar with Washington's hard-hitting safety.
"He won't be hunted. He's the hunter," Tyler said. "You watch out for him. You've got to watch out for him. If there's anybody on the field you watch out for, you watch out for him. That's a career-ending dude right there."
Tyler said he and other high school athletes like to mimic their favorite NFL players, but when it comes to highlight-tape hits, Tyler said T.C. Williams coaches punish players with extra conditioning for leading with their helmets while hitting in practice. Tyler said his tackling technique has evolved since his youth football days, but injuries from years of tackling with his head have taken a toll.
"A lot of stuff has changed," he said. "Back in rec league and Pop Warner, I was reckless. It didn't matter. … I've got to wear [a neck protector] because of that. I used to hit with my head and I've got neck injuries. I've got a weak neck now."
PRIOR TO THE 2013 SEASON, a collision in practice led to Tyler having difficulty moving one of his arms for an entire month, he said.
"We were doing a screen drill and … I had read it real good and I was like, 'I've got to hit [the receiver],'" Tyler said. "At this time, we were still competing for spots. I was like, 'I've got to be the hammer, not the nail,' and I hit him. Next thing I know … my whole arm, it was done. It felt like it wasn't even there."
Langley High School senior Garrett Collier is a two-way starter for the school's football team, playing receiver on offense and safety and outside linebacker on defense. A Redskins fan, Collier said he has no issue with how Meriweather plays the game.
"Most people in the NFL are trying to hit people as hard as they can," Collier said. "I don't think anyone purposely tries to hit someone in the head, but some people have more of a tendency to hit up high. … I kind of get frustrated when the refs are quick to call a penalty for hitting high or targeting. … I'm on the players' side."
While Collier follows the NFL, he said he doesn't try to emulate the pros when he's on the field.
"If a receiver is open," he said, "I'm not trying to take his [head off]. I'm trying to make the smart [play]."
On offense, Collier said he tries to protect himself from big hits, but he hasn't always been able to do so. Collier suffered a concussion during an eighth-grade football game that caused him to black out and vomit.
"I got hit by some kid," he said. "I completely blacked out. I woke up in the ambulance and I was throwing up. … I literally have no recollection of the hit or what was leading up [to it]."
DeMornay Pierson-El, a senior quarterback and defensive back for the West Potomac High School football team, is committed to play at the University of Nebraska as a slot receiver and kick returner.
Pierson-El, a Baltimore Ravens fan, said he likes Meriweather's aggressive style of play, but not the kind of hits he delivers.
"He doesn't have to hit so high," Pierson-El said. "He can hit a little bit lower, I feel, like from the shoulders down is fine."
Pierson-El said going for a highlight-reel hit is risky.
"The big hit is not always the best play," he said. "Going for a big hit up top and the dude bounces off and still gains yards [is] not a good look."
Lake Braddock junior AJ Alexander, a receiver and defensive back for the undefeated Bruins, said injuries are part of the game, but using proper tackling technique can help make the game safer.
"I realize how dangerous [helmet-to-helmet hits are]," Alexander said. "I've seen a lot of things on the news about how dangerous it is. That's why we've [been doing] the whole Heads Up Tackling thing (through USA Football) that's being implemented and we're making sure that we're being fundamentally sound. Plus, if you hit people [around the head], you might not even make the tackle. There are a lot of things to think about, but being fundamentally sound is what it all comes down to."
Alexander is a New York Giants fan.
"[Helmet-to-helmet hits are] part of the game because it's a physical sport," he said. "You've got helmets on, shoulder pads, you've just got to be physical. You've got to do what you've got to do."
Heads Up Tackling, which Alexander referred to, is part of the Heads Up Football program, which is offered through USA Football, the governing body for American football at the youth and amateur levels, and supported by the NFL. Heads Up Tackling focuses on teaching proper tackling technique at the youth and high school levels using five fundamentals: the breakdown position; buzzing your feet; the hit position; shooting the hips; ripping the arms.
HEADS UP TACKLING is one of five elements of Heads Up Football. The other four are: having coaches complete a certification course; teaching coaches concussion recognition and response protocols; appointing a trained safety coach to a participating high school team or youth league; and teaching coaches and parents about proper equipment fitting.
The program is backed by the Northern Virginia Football Coaches Association and used by high school teams around the region.
Centreville High School head coach Chris Haddock flew to Indianapolis during the winter and became a master trainer of tackling techniques. He said the goal of establishing common language and common technique when teaching tackling to youth football players is to have a "trickle up" effect, leading to safer tackling at the college and pro levels.
When it comes to the NFL, Haddock, a Pittsburgh Steelers fan, said he doesn't see any of his Centreville players trying to emulate what they see on TV. He also said the Steelers have been penalized at times for hits that are simply part of the game.
"Some of them I agree with, some of them I don't," he said. "Having played, sometimes you're flying through the air and someone else is flying through the air and your heads hit. It's not something people plan on doing."
The Oakton High School football team has a subscription to NFL Rewind, which allows subscribers to watch replays of each NFL game from different angles in the way a coach would analyze film. Head coach Jason Rowley said he wants his players to emulate the aggressive nature of pro and college athletes, but wants the Cougars to stay away from dirty plays and showboating.
When it comes to Meriweather, Rowley complimented the defensive back's effort.
"I think he's a guy who plays hard," Rowley said. "I think it's certainly not my place to judge whether he's within the rules or he should be fined. I love the passion he plays with and I'd like my players to play with that passion."
Whitman High School head coach Jim Kuhn said most of the athletes in his Bethesda, Md., program aren't the type to initiate helmet-to-helmet hits. He said families in the area have a heightened awareness of concussion risks and players don't want to risk major injury playing a sport that will have no impact on their future.
"The opportunities for them to play on Sunday are pretty limited and they have a life to live beyond football," Kuhn said. "… It's definitely not a means to an end [for most Whitman athletes]. … Most are headed to college … [for] other careers and future endeavors. … [Football is] not a way out for them."
After returning from his suspension for repeated helmet-to-helmet hits, Meriweather said he would start going low to make tackles.
Whatever Meriweather does, high school players and coaches will likely take notice.
"That's just his style. He's always been aggressive. Even in college,
he was known as a big hitter," said South Lakes head coach Marvin Wooten, a Dallas Cowboys fan. "… In this sport, I don't think there's any individual out there trying to end careers or cause any kind of permanent damage on a player. … I think that's just the way he's
played the game."