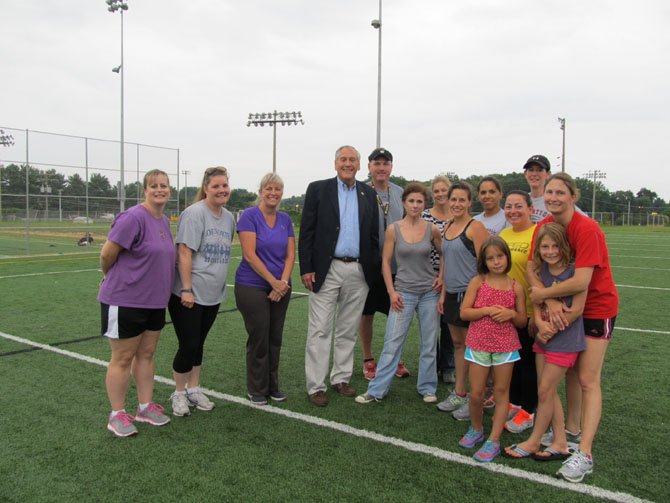 Supervisors Honor Those Promoting Heads Up Football
Last January, the Fairfax County Board of Supervisors honored a group of local coaches and residents for their role in promoting Heads Up Football, a program to reduce the number of concussions among players, in Fairfax County Public Schools.
The board recognized Bill Curran, Fairfax County Public Schools; Mark Meanna, USA football board member; Dick Adams, former Annandale High School coach; Mike Lalli, Chantilly High School coach; Chris Haddock, Centreville High School coach; and State Sen. Dave Marsden.
Local coaches were also previously among just three districts in the country to adopt a pilot program. The program aims to improve tackling techniques, and by extension, reduce the number of concussions — a topic of increasing concern among parents and on the professional level, in the NFL.
"All the polls show that NFL football is the most popular sport in our country today…But there's a bit of a contradiction, as the pro game is so popular there is a growing number of parents who are concerned and won't let their children participate in youth sports or youth football. The concern is long-term impact of head injuries and concussion impacts. So this is just a huge step forward to give parents that one extra level of security," said Supervisor Michael Frey (R-Sully District).
Added Supervisor Pat Herrity (R-Springfild): "Every little thing that we do, if we can prevent serious injuries, it's important to our students and our communities."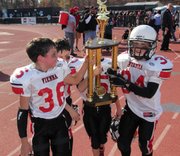 It wasn't that long ago when youth football coaches believed a player's toughness was measured by his ability to play through the pain. Concussions and other serious injuries were just "part of the game."
"When I was playing football for W.T. Woodson in the late 1960s, you had two practices a day in the heat and humidity of August. There were no water breaks except before and after practice," said state Sen. Dave Marsden (D-37). "Coaches thought drinking water would make you sick."
Marsden, a wide receiver for Woodson, said injuries were minimized.
"When someone had disorienting head trauma, we'd say 'you got your bell rung,' or 'he was shaken up by the play.' Coaches clearly expected you to go right back in the game."
During football's heyday, players and coaches alike looked up to legends like Paul "Bear" Bryant who left a legacy of 37 winning seasons and five Associated Press national championships at Alabama.
Bryant was also known as a strict disciplinarian: His first training camp as Texas A&M coach did much to write his legacy as a "tough" coach when Bryant took his "Junction Boys" to a small Texas town and ran a boot camp in which more than two-thirds of his players quit. As a player at Alabama, Bryant demonstrated his own toughness by playing against Tennessee with a broken leg.
"There was this thing that coaches had all been taught, that it took that kind of toughness to win …," Marsden said. "It was ridiculous, and we know better now."
TWO YEARS AGO, as concussions were getting more attention in the NFL, USA Football — the national governing body for the sport and its youth outreach arm — created a program to teach safe tackling to youngsters called "Heads Up." Heads Up Football is based on a style of tackling that puts emphasis on striking a blow with the shoulders instead of the head.
At the same time, Marsden received a call from his son Connor, who had played football at the University of Richmond. "He asked me to watch a Bryant Gumbel special regarding head injuries in football and said, 'Dad you have to do something,' he told me."
Marsden thought about legislation, but realized there was a more efficient way to get the program off the ground: In 2013 he introduced a bill in the Virginia Senate to reduce the amount of full-contact practice allowed in high school football programs in Virginia.
Then he asked that his own legislation be tabled.
Marsden knew the chances of his legislation moving forward during a session that involved a contentious gubernatorial race — and the imminent implosion of popular Republican Gov. Bob McDonnell, who was making national headlines as the target of an FBI probe — were slim to none.
So he introduced his bill, then asked that it be tabled in favor of a letter to the Virginia High School League (VHSL) by the Education and Health Committee chairman asking that the matter be studied.
"A letter signed by the members of the Virginia Senate worked just as well," Marsden said, smiling.
A task force was established and — after a year of meetings — significant reductions in full contact were written into regulations governing high school football in Virginia. VHSL Executive Director Ken Tilley presented the task force's action to the Senate at the 2014 session. Their actions also made "Heads Up Football" the standard of instruction.
Last year, Fairfax County became the first high school district in the country to adopt Heads Up Football.
Craig Richardson, the vice chair of Communications for the Fairfax County Youth Football League (FCYFL) and former president and commissioner of McLean Youth Football, said Heads Up football has become a key component of all Fairfax County clubs.
FCYFL is the umbrella organization comprising the 22 clubs that serve Arlington, Fairfax, Loudoun, Prince William and the City of Alexandria. Last season, FCYFL fielded more than 300 teams, with 1,200 coaches and more than 6,000 players.
When USA Football created Heads Up in 2012, it hoped to reach a few hundred of the nearly 11,000 leagues in the U.S.
IN ONE YEAR, Heads Up Football was adopted by nearly 2,800 groups.
The NFL noticed.
This year, the NFL provided USA Football with a five-year, $45 million grant. And USA Football is in the process of hiring more master trainers, expecting to add between 50 and 70 to the first-year roster of about 30.
Heads Up football simplifies many safety techniques into six key components:
education and certification
equipment fitting
concussion education and response
heat and hydration
the establishment of a player safety coach
and tackling with the head up — and out of contact.
"The FCYFL has been on the forefront of making football the safest it can be for years," Richardson said.

"For example, our age/weight matrix is the model that football programs across the county now follow. Every year, we weigh in every single one of the 6,000 or so players in our league, and they are placed within a particularly weight-class depending on their age and weight. The younger a player is in the weight-class, the more they can weigh, Richardson said.
Richardson also noted that — because there are three skill levels within each weight class — players are matched up appropriately.
"Finally, we require all coaches to be USA Football certified, which requires completion of an extensive online training course including a module on concussions and other safety issues, and they must complete a background check by a professional screening company," he said.
Richardson said there was some initial hesitation from coaches, particularly those who had been around for a while.
"They had their own way of doing things, and they were a bit resistant to making changes to their approach to teaching. Once they saw the Heads-up football program, how it works, its safety benefits, and the ease in understanding it from the players perspective, all were converted and are now outspoken advocates for the program," Richardson said.
"Parents are obviously concerned given the extensive negative publicity primarily at the NFL level, and are excited that at the youth level we were proactively addressing the issue," he added. "The Heads-up program also requires significant parent involvement, so they are included in the training process and are an integral component of its success."
As more than 6,000 local youth began football camps in every area of the county last week, Richardson said the FCYFL reminded players, coaches and parents that Fairfax County is a Heads Up organization.
"We take player safety seriously. Our number one rule stipulates that there's no physical contact for any player during the first three days of practice, and that each player must have at least three practice periods of conditioning and training before engaging in any contact drills or scrimmages."
Vienna Youth football commissioner Todd Casey ran a "Football Moms" camp last week at Oakton High School specifically to give parents the opportunity to experience and understand what their sons encounter during football practice .
The camp was organized by VYI Football Moms, and nearly 50 Oakton and Vienna moms attended the Friday evening camp.
Tami Chadwick, whose son plays VYI football and whose daughter is an OHS cheerleader, said she is more concerned about the possibility of injuries in other sports.
"We have a great organization with involved coaches and parents," Chadwick said. "It's clear from day one that coaches are concerned with safety. For example, there is no way they let your son play with a helmet that does not fit properly."
"We coach with safety in mind," Casey said. "Fairfax County youth football is an incredible community that has a ridiculously large impact on the lives of those who play."
Casey said Heads Up has not detracted from staying competitive and continuing to compete in playoffs.
Greg Dunlap, a 15-year-old player from Lake Braddock, said the changes have made playing football "smarter and safer."
"You understand what you're doing more. It's not just blindly running and hitting the guy with the football," Dunlap said.
According to the National Federation of State High School Associations, participation in high school football was down 2.3 percent in the 2012-13 season compared to the 2008-09 season.
Some of that drop-off is attributed to parents' concerns about safety in football. Former NFL running back Merril Hoge, now a member of USA Football's board of directors, said Heads Up Football is having a positive impact on the game and addressing parents' concerns.
"The ultimate objective is to educate everyone who needs to know more about the trauma in sport, and when it happens, that the right action takes place," Hoge says.
TO FAIRFAX COUNTY COACHES like Richardson and Casey, Heads Up Football benefits all coaches, whether they are working with pee wees starting out in football, or high schoolers with college scholarships in sight.
Marsden added that Heads Up shifts the emphasis from treatment to prevention.
"In the past so much of the focus has been on treating a player after a big hit. This is the first time we saw there was something we could do on the front end that makes the game safer," Marsden said.
"At the end of the day, prevention is always the best place to end up, whether it's medicine, crime or sports. Prevention is always better than the cure," Marsden said.
Marsden sees the connection to high school football as essential.
"The high school coach is critical to this program, not only continuing to succeed, but grow," Marsden said. "The high school coach in the area is the guy who supports the youth programs, the guy who is looked up to on every level, the guy the kids want to play for some day. The more high schools applied to the program, it will legitimize the program even more. They prepare their kids for high school. If this is part of the high school curriculum, we will see more youth coaches embrace it."