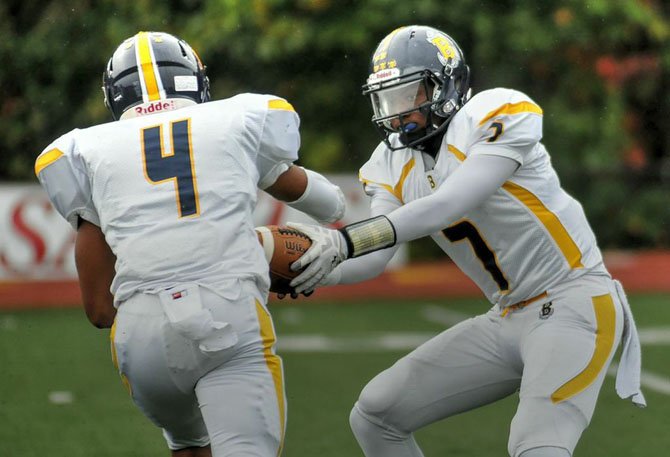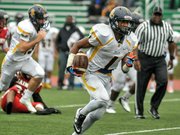 The Bullis football team's scoring onslaught against St. Stephen's & St. Agnes started with quarterback Dwayne Haskins Jr. zipping an 8-yard touchdown pass to Damani Neal, who showed off his athleticism and coordination by coming down in bounds in the end zone.
Later, Devonte Williams ripped off a 42-yard touchdown run, and Nate Lewis returned an interception 57 yards for a score, giving the Bulldogs a 21-0 halftime advantage.
Patrick Johnson made a nifty move to get open for a 10-yard touchdown reception and Williams would eventually reach the end zone for a second time.
Bullis opened IAC play with a 35-7 victory over St. Stephen's & St. Agnes on Oct. 10 in Alexandria. The Bulldogs improved to 5-1 while showing off a vast array of playmakers on each side of the ball.
The rocket-armed Haskins leads the Bullis offense. The junior completed 10 of 19 passes for 128 yards, with two touchdowns and one interception. He also had a nice deep pass called back due to penalty.
"He's a great quarterback," Bullis head coach Pat Cilento said. "Very, very intelligent football IQ, very intelligent in the classroom. He's unbelievable. He's special."
On the ground, senior running back Williams carried 18 times for 204 yards and two touchdowns. He showed the ability to make defenders miss with speed and quickness, while possessing the power to run over would-be tacklers.
"Devonte's a great back," Cilento said. "He does a great job for us. ... He's very shifty and can make guys miss in space."
Johnson, a junior, and Neal, a sophomore, each caught a touchdown pass. Each has been offered a scholarship by Rutgers.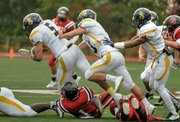 On defense, junior linebacker Steven Shollenberger amassed 15 tackles and junior Cameron Brown had 10. Senior defensive back Lewis had three tackles and a pick-six.
Jonathan Holland was one of several Bulldogs making an impact on both sides of the ball. The senior is committed to Penn State as a defensive end, but has the chance to play tight end at the next level, if he chooses.
"Scoring touchdowns is good," Holland said when asked which position he prefers, "but getting sacks is good also."
While Bullis is supremely talented, the Bulldogs lack depth. Bullis has just 38 athletes listed on its roster, which has affected the way Cilento runs practice. He gives the team one day off a week and the Bulldogs don't practice in full pads, just helmets and shoulder pads.
"It's basically trying to stay healthy," Cilento said. "We only practice about three days a week. ... [Giving players a day off is] more of a feel thing [depending on] where we feel like we're at with the team and how focused we are."
Holland said the Bulldogs take care of their bodies, including ice baths after practice and Epsom salt baths before bed, and make an effort to maximize practice time.
"It's just staying hydrated and taking care of our bodies," Holland said. "When you see us around school, you always see us with a gallon of water and some Pedialyte to make sure we don't cramp up. ... [We take] care of our bodies so we don't have a lot of people going down because if we do, we don't have depth to back it up. ... Sometimes we do get hurt, but we can't come out of the game. Just battling through injuries, keeping ourselves healthy, that's how we play with the numbers that we [have]."
Next up for Bullis is a game against St. Albans at 1 p.m. on Saturday, Oct. 18 at Wootton High School. The Bulldogs are the defending IAC champions, have won two of the last three titles, and have their sights set on getting another one.
"Obviously, winning the IAC," Holland said when asked about goals. "We have a tough matchup with some teams, Episcopal and Landon, but I feel like we'll be able to play good against them and it will be a dogfight."