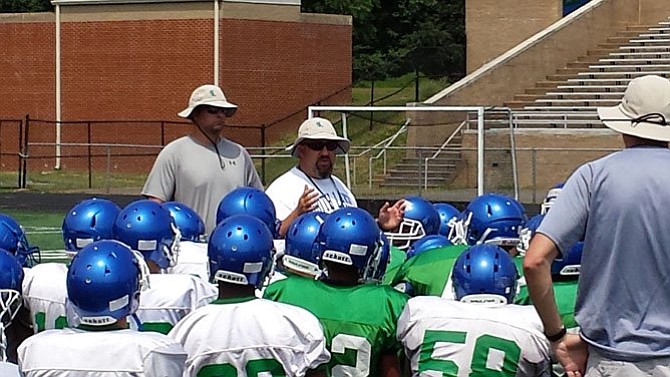 Tony Verducci still regrets not calling a timeout.
Kyle Simmons is still bothered by failed personnel decisions.
Trey Taylor remembers when he could have been a goat, but ended up a hero.
Football coaches spend countless hours during the season preparing their teams for game day. They must develop a strategy for attacking and defending against a particular opponent. They must choose which of their athletes will get the most playing time. And they must find a way to motivate their players to perform to the best of their ability.
After all the time, effort and emotion coaches spend preparing their teams for a game, sometimes a contest can be decided by a single decision.
On Sunday night in Glendale, Ariz., Seattle Seahawks head coach Pete Carroll and offensive coordinator Darrell Bevell combined to make a decision that will be remembered for years to come.
Seattle trailed the New England Patriots 28-24 with less than 1 minute remaining in Super Bowl XLIX. The Seahawks faced second-and-goal at the 1-yard line with the clock ticking and one timeout available. Through 59-plus minutes, Seahawks running back Marshawn Lynch, nicknamed
"Beast Mode" for his violent running style and ability to break tackles, had amassed 102 yards and a touchdown on 24 carries, including a 4-yard run on the previous play that placed the ball just shy of the goal line.
ON THE VERGE of becoming the first team in a decade to win back-to-back Super Bowls, Carroll and Bevell called for a pass play rather than handing the ball to their star running back. The play called for wide receiver Ricardo Lockette to run a slant pattern. In theory, Lockette, with the help of a "pick" from fellow receiver Jermaine Kearse, was supposed to flash open for a touchdown. But when quarterback Russell Wilson fired the football toward Lockette, New England rookie defensive back Malcolm Butler jumped the route and intercepted the pass, securing the Patriots' fourth Super Bowl championship of the millennium and leaving the Seahawks wondering what could have been.
Instead of putting the ball in the hands of the Seahawks' best player (multiple times if needed), Carroll and Bevell called for a pass play into a crowded area of the field and came up empty. After the game, the play call received harsh criticism from fans, media members, and players from other teams.
From ESPN.com: "Carroll botches Super Bowl."
From The Seattle Times: "Seahawks lost because of the worst call in Super Bowl history."
From the San Jose Mercury News: "Any way you look at it, Seattle's insane pass at the end of the Super Bowl was the worst play-call in modern sports history."
The following day, several high school football coaches from Northern Virginia and Montgomery County, Md., shared their thoughts about the final minute of Super Bowl XLIX. The majority of those who responded said they would have called a run play on second-and-goal from the 1. Some coaches acknowledged that it's easy to second guess a decision, and some shared tough decisions they had to make in the past.
Verducci, head football coach at Bishop Ireton (Alexandria), was "shocked" by Seattle's decision to throw the football.
"In a similar situation against Green Bay [in the NFC Championship game on Jan. 18] the Seahawks ran 'read option' and Russell Wilson was virtually untouched scoring a touchdown," Verducci wrote in an email. "During the timeout [prior to first down], I would have called a power running play for Lynch on second down and the read option for Wilson on third down if they did not score. I would have used my final timeout if the second and third down runs were unsuccessful."
Verducci is haunted by his own tough decision gone wrong. Facing St. Christopher's in the 2011 state semifinals, Bishop Ireton led 34-31 with less than a minute remaining in the fourth quarter. St. Christopher's faced fourth-and-15 at its own 2-yard line with less than 1 minute remaining and no timeouts.
"My gut instinct was to call a timeout," Verducci wrote, "but I did not call one."
St. Christopher's executed a hook-and-lateral play that broke loose for a 98-yard touchdown and the Saints held on for a 38-34 victory.
"I still regret the fact," Verducci wrote, "I did not call the timeout to discuss the possibility of a trick play, among other things."
Simmons, who has led the Westfield football team to four consecutive region championship games, was "surprised" Seattle opted to pass.
"They had one timeout left and an almost unstoppable running back," Simmons wrote. "I said out loud, Seattle just needs to run the ball now. ... I would have run the same play they ran on first down. They almost scored on that one."
Simmons said he remembers some of his failed choices as a coach.
"My biggest regrets come with personnel decisions," Simmons wrote. "And yes, when I look back on some of those decisions it bothers me very much."
Taylor was the head coach at W.T. Woodson in 2008 when he called for a fake punt at the Cavaliers' own 10-yard line in a game against Westfield. The intended receiver on the play dropped the pass and Woodson went on to suffer a lopsided loss.
"The play was there, we just failed to execute," wrote Taylor, who is now the head coach at South Lakes. "... For the Westfield game, we knew we had to do some things out of the box to have a chance to win. We were prepared to do things like we did, so the decision didn't bother me because it was part of the game plan."
In 2009, Woodson defeated eventual region champion Lake Braddock 43-42 during the regular season. Taylor took a risk at the end of the game and it paid off.
"We score on a 90-yard screen play to pull within one with about a minute to go," Taylor wrote. "We opt for a 2-point conversion for the win. We convert and win the game 43-42. After the game, several people commented on how that isn't what they would have done. Since we won it was a good call. If we wouldn't have, then everyone would have had a better idea. But at the moment, that is what felt right."
Seattle had the ball at the New England 11-yard line with 6 seconds remaining in the first half. The Patriots led 14-7 and the "safe" play would have been for Carroll to kick the field goal and go into the locker room down by four. Instead, he opted to run one more offensive play and it paid off with a touchdown pass from Wilson to Chris Matthews.
CARROL'S DARING DECISION at the end of the game didn't pay off.
Whitman (Bethesda, Md.) head coach Jim Kuhn said he would have run the ball in the final minute of the Super Bowl, but added Carroll would have been praised if the pass play had worked.
"I would have run my zone read with Lynch," Kuhn wrote. "He hadn't been stopped for less than a yard all game. He's going to at least fall forward and if the [defensive end] came hard down the line, Wilson keeps and walks into the end zone. ... Again, it's easy to second guess. If that pass is complete and the Hawks win the SB, we're all talking about what a great, gutsy call it is.

"People criticize coaches all the time, it's part of the job. You have to have thick skin and get over it. If you dwell on it, it will ruin your coaching career."
Lake Braddock head coach Jim Poythress defended Carroll, who led Seattle to a Super Bowl title the previous season and won a pair of national championships with the University of Southern California.
"Hindsight is always 20/20. Last I checked, Coach Carroll had won a lot of big games," Poythress wrote. "Everybody is a football expert on Monday. The nature of being a football coach (or a weatherman) is that you will get second-guessed. I wish I could show up at the work place of those who have criticized our program and say whatever ridiculous comment I wanted.
"Where were the experts after the NFC Championship [when Seattle overcame a 16-0 deficit to win 28-22 in overtime]? Didn't Coach Bevell lead the comeback? I take my hat off to Bevell for getting them to the 1-yard line [in the final minute of Super Bowl XLIX]. He did that with little time left and probably 100 million people watching. More importantly, I credit the Seahawk players for sticking together after the game. Nobody pointed fingers or laid blame. Even Marshawn Lynch, who everybody loves to hate, had only positive things to say about the call and his teammates."
Lake Braddock finished the 2014 season with a 10-3 record and reached the 6A North region semifinals despite the graduation of star quarterback Caleb Henderson, who is a freshman on the University of North Carolina football team.
"After winning 10 games this year, we were still second-guessed as a staff after the Westfield loss [in the region semis]," Poythress wrote. "We had some seniors that wanted to lay blame on the underclass. We had parents cry about their kid's touches or stats. After the last-second win versus West Springfield [in the region quarterfinals], we were the greatest staff in the area. The next week we were dog dirt. It comes with the turf and you won't last long if you pay attention to it. At the end of the season, only one team is happy."
Carroll, Bevell and Seahawks players will have all offseason to think about coming up 1 yard short of winning Super Bowl XLIX and the play call that led to the game-ending interception. Will they get over the disappointment?
According to ESPN.com, the Westgate SuperBook and the William Hill sports book have Seattle as 5-to-1 favorites to win Super Bowl 50 following the 2015 season.
For now, there are plenty of reminders of the gut-wrenching loss coming from fans and the media.
"When I was a boy, my parents used to tell me to, 'consider the source' when being maligned," Poythress wrote. "I would like to meet the reader of these words who knows more football than Pete Carroll or Darrell Bevell."