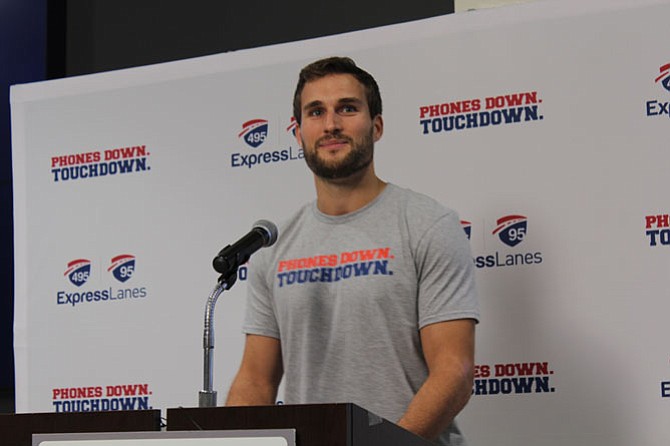 Virginia — Washington Redskins starting quarterback Kirk Cousins kicked off the "Phones Down. Touchdown." safe driving campaign in McLean to spread awareness of the dangers and consequences of using cellphones while driving.
"I've made a career out of playing offense playing quarterback," Cousins said during the press conference. "When I'm behind the wheel, I drive defensively. I don't text or look at my phone while driving because it's dangerous. No text or phone is worth risking your life or the lives of others."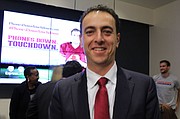 Texting for just five seconds behind the wheel is like driving blindfolded across an entire football field, he said.
"If I get sacked in a game, I can get back up and move onto the next play — for the most part," he said. "But when you text and drive, you might not get back up."
He encouraged people to apply positive peer pressure when they see the foul being committed.
"Speak up and tell them to put the Phones Down," he said. "Tell them to wait. If you're in the car, don't let a distracted driver make an excuse. No matter the call or the text, it's not worth it."
FRIENDS WHO HAVE DIED in car accidents is part of the reason Cousins was willing to be the face of the campaign. His college teammate and former Michigan State punter Mike Sadler, 24, died in a car accident in Wisconsin in July.
"Mike is one of a few people close to me who have been lost due to a car accident," Cousins says. "If we can even save one life by putting this message out, it's a worthwhile message."
"Texting for just five seconds behind the wheel is like driving blindfolded across an entire football field," Cousins said.
While distracted driving may not have been the reason for his friend's fatal accident, it is a trend among young drivers.
According to the National Highway Traffic Safety Administration, 10 percent of all drivers 15 to 19 years old involved in fatal crashes were reported as distracted at the time of the crashes.
"I've been up here for 12 years and at least 16 troopers in those 12 years have been struck on the sides of the interstate in Northern Virginia for drivers that were distracted by various reasons," Cpt. Jim De Ford, commander of the Fairfax Division of the Virginia State Police, said during the press conference. "It is a real problem and it is one that affects us every day."
"Distracted driving has become an epidemic and one too many people are too willing to accept as the norm, and too many people are willing to be a part of the problem rather than be the solution," he said. "By the solution I mean ignore the phone, and that's even hard for me to do I'll admit, but I try to do it."
If drivers fail to ignore their phones while driving, De Ford said that he and his officers will not be ignoring them.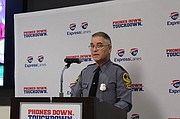 "I can assure you that if a Virginia state police trooper observes you texting while driving or determines that your texting caused a crash, then you will be cited," he said.
Fairfax County has not been immune to the epidemic.
"In 2016 year-to-date, [Fairfax County is] at 35,000 crashes approximately and 29 percent of those have been attributed to distracted driving," Cpt. Bob Blakley, commander of the Fairfax County Police Department Traffic Division, said during the press conference.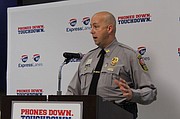 That's more than 10,000 car accidents so far this year due to distracted driving, and even more citations.
POLICE OFFICERS have issued more than 13,000 citations to drivers in the county for distracted driving, Blakley said. But Blakley said enforcement alone is not the answer to the problem.
"It's a combination of aggressive enforcement but more importantly a huge education and awareness campaign," he said. "This is what will truly make the difference."
He encouraged the public to take the time to take the campaign's pledge at www.phonedowntouchdown.com and to talk about their experiences with texting while driving.
The "Phones Down. Touchdown." Campaign is sponsored by Transurban, which manages and develops toll road networks in the U.S. and Australia. The company, which hosted the press conference at its McLean office, operates the 495 and 95 Express Lanes in Northern Virginia.
According to Mike McGurk, a spokesperson for Transurban, drivers who share the "Phones Down. Touchdown." graphic on social media with the hashtag #PhoneDownTouchdown will be entered to win a month of free travel on the Express Lanes. A new winner will be selected every week throughout December and January.