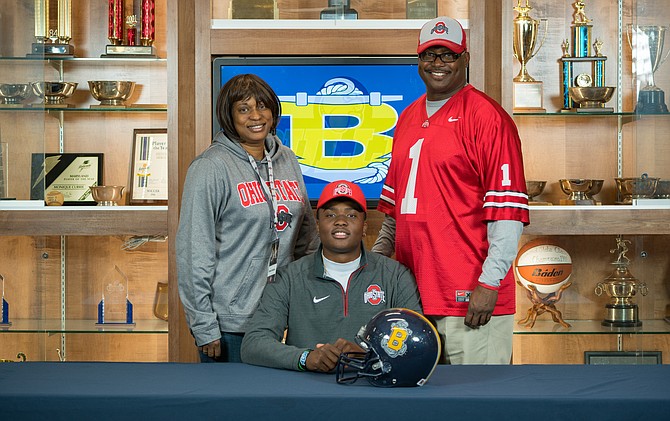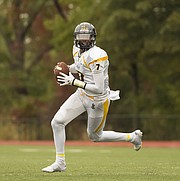 When former Bullis quarterback Dwayne Haskins Jr. was selected by the Washington Redskins in the first round of the NFL Draft last Thursday night, Bullis Head Coach Patrick Cilento had long before committed to attend a different type of Bullis Alumni Association gathering.
But Cilento's assistant coaches were with Haskins, his family and friends at Bowlmor Lanes in Gaithersburg where Haskins awaited the imminent call from an NFL team. Cilento was keeping up with Haskins' minute-by-minute draft situation.
Many thought the New York Giants would select Haskins with the sixth pick.
"Unbelievable, unbelievable," Cilento said, of the Redskins selecting his former player to be their quarterback of the future with the fifteenth overall pick in the first round.
"It is a great day for Bullis and a great day for the Washington Redskins," said Cilento, himself a former quarterback who played for Western Carolina University in 2001 and led Sherwood to a Maryland state 4A title when he was a Montgomery County high school quarterback in 1995.
Cilento remembered the summer when Haskins transferred to Bullis from New Jersey after ninth grade.
"We knew right then and there, on day one, he was a special player," Cilento said. "The ball just popped out of his hand."
AT BULLIS, in three seasons, Haskins passed for 5,308 yards and 54 touchdowns. He helped lead Bullis to consecutive IAC titles his sophomore and junior years. He graduated from Bullis in 2016.
At Ohio State, in 2018, Haskins set 28 Ohio State University records and seven Big Ten Conference records, including 4,831 single season passing yards and 50 touchdown passes. Against top-25 nationally ranked teams last fall, he threw 20 touchdowns and two interceptions.
Haskins was a 2018 Heisman Trophy finalist, finishing behind Oklahoma's Kyler Murray and Alabama's Tua Tagovailoa, both quarterbacks.
HASKINS ANNOUNCED in January that he would leave Ohio State to enter the 2019 NFL draft.
The Redskins hoped he would be available when they drafted with the fifteenth pick overall in the first round.
"Great kid, great player, very smart," said Redskins coach Jay Gruden, following the first round draft pick. "We feel really good about where he is as a player and where he is going."
"I wouldn't be able to call myself an NFL player without the support of my family, especially my Mama," said Haskins in a tweet the day after the Redskins drafted him.
"Redskins fans, I'm back home baby," he said. "Let's go!!!!"
HASKINS WAS BACK at Bullis one week before the draft, said Cilento, supporting a friend of his sister's on signing day at Bullis, for students signing letters of intent to play college sports. Haskins spent 45 minutes talking to Bullis students, signing autographs, and seeing his former coaches, teachers and friends.
"That's the kind of person he is," said Cilento. "He's very well respected."
Cilento said Haskins always "played beyond his years."
"He's a very smart and mature kid," said Cilento, who has sent Bullis athletes to play at every level in the NCAA. The Bullis head coach has led Bullis to a 61-18 record in eight seasons.
The Redskins drafted Haskins' teammate, wide receiver Terry McLaurin, in the third round with the 76th overall pick.
"Dwayne, I'm coming for you, man. Watch the Redskins. We're coming," McLaurin said in video, tweeted by Ohio State University, when he got his call from the Redskins coaches and owner.
Cilento called Haskins a leader, who often galvanized others to join him in the weight room and to study tape and plays. "He makes others feel comfortable," said Cilento.
DANIEL SNYDER, owner of the Redskins, has a son who currently plays football at Bullis.
The Redskins are scheduled to hold their annual rookie minicamp from May 10-12, 2019. Mandatory minicamp will take place from June 4-6, 2019.
"Beyond blessed to be a member of the Redskins. Can't wait to get started," said Haskins.
"It's quite a credit to Dwayne that he worked so hard to maximize his talent and fulfill his dreams," said Cilento. "I'm just very proud of him."
Dwayne Haskins: By the Numbers
1
Former Bullis standout quarterback Dwayne Haskins was drafted by the Washington Redskins with their first-round pick, the 15th pick overall in the 2019 NFL Draft, held Thursday, April 25, 2019 in Nashville, Tenn.
3
Haskins was a Heisman Trophy finalist, finishing behind Oklahoma's Kyler Murray and Alabama's quarterback Tua Tagovailoa. The Arizona Cardinals picked Murray with the first overall pick in the 2019 NFL draft; Murray had already been drafted in June 2018 to play baseball by the Oakland A's but Murray elected to play football. Tagovailoa will continue his collegiate career at Alabama.
231
Haskins is listed as 6-foot-3 and 231 pounds.
28
Haskins set 28 Ohio State University records and seven Big Ten Conference Records in 2018, including 4,831 single season passing yards.
50
Touchdown passes Haskins threw for Ohio State University in 2018, another single season record.
499
Yards passing in Big Ten Championship, when Haskins and Ohio State defeated Northwestern 45-24 on Dec. 1, 2018. Haskins completed 49 passes and earned the Big Ten Championship Game MVP. About 66,375 attended the game.
49
Passes completed against Purdue on Oct. 20, 2018; he attempted 73 passes, another single game record.
1,963
Passing yards during junior year at Bullis, when he was named Maryland Gatorade Player of the year.
1995
Haskins is the first Big Ten quarterback to be drafted in the first round since Penn State University's Kerry Collins was drafted by Carolina with the fifth pick in 1995.