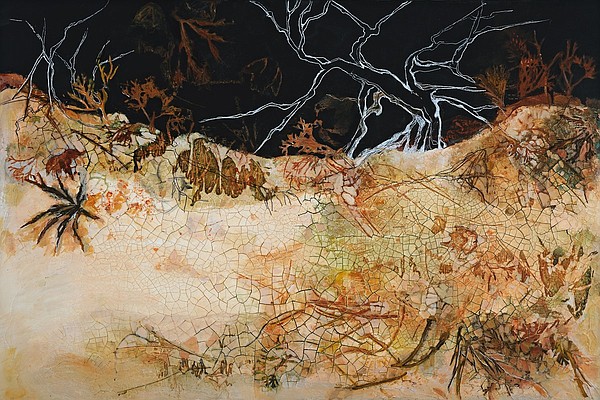 Thursday, December 24, 2020
Potomac artist Nimi Trehan said earlier this month that she is among artists exhibiting their works in a show titled Climate Change Through a Personal Lens.
The exhibit displays the work of a local group, E Street Artists, who met while students at the Corcoran School of Art and Design at George Washington University. There the students worked under the guidance of Mira Hecht.
Seventeen artists joined the public dialogue on climate change with works.
"We are not told what to think, but we are invited to reconsider our assumptions and to face hard truths, to contemplate our loss," according to a release on the exhibit. "Art challenges us to action."
Trehan's work is "Earth-Scorched and Seared."
Her artist's statement reads:
Mother Earth created this richness and abundance of life to withstand the test of time
But we are slowly destroying her and that is humanity's ultimate crime.
Scorched and seared-
There is no life or water here
We need to replenish what we stole
And quench the earth to make it whole
The exhibit is open now through Feb. 23, 2021 in the Ballroom Gallery at the Women's National Democratic Club, 1526 New Hampshire Avenue NW, Washington, DC 20036.
Call 202-232-7363 for hours.