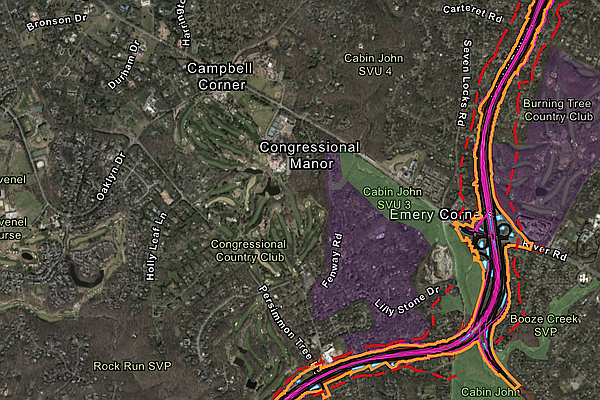 Thursday, January 9, 2020
Gov. Larry Hogan (R-Md.) revised his plan, securing the necessary vote from Comptroller Peter Finchot to widen the American Legion Bridge and add toll lanes up through I-270. But the new plan still leaves the Potomac River and residents of Potomac and Bethesda in the lurch.
Franchot appears poised to vote in favor of a modified plan, giving Hogan a victory:
"We can do nothing and just hope that the traffic will break itself up. Or we can get moving with better roads, better transit and a real partnership between our state and local governments," said Franchot. "This is a better deal for the taxpayers and a win for our region."
The Board of Public Works is expected to vote official approval and give more details on Wednesday, Jan. 8, 2017, the day Maryland's General Assembly begins.
"This is an immediate threat to all of those who live anywhere near where the new lanes will be built," said Susanne Lee, president of West Montgomery County Citizens Association.
"In the last few weeks, Peter Franchot and [Maryland Department of Transportation] Action Secretary Greg Slater have pledged increased transparency and community participation. But actions speak louder than words," said Josh Tulkin, Director of Maryland Sierra Club. "No new data has been released for public review. We have not seen any change to the fuzzy math used to justify highway expansion as being good for the climate. And yet again, the [Board of Public Works] has dropped in a proposal at the last minute."
CONSTRUCTION IS PLANNED to begin as early as 2021.
"This amended agreement represents a far more balanced approach to the traffic gridlock that is inflicting more damage to our region's economy, environment and quality of life with each passing day," Franchot said.
Hogan cancelled the Board of Public Works meeting in December in order to reach a compromise with Franchot.
Franchot's statement describes the new agreement:
"The first phase of this project will include the American Legion Bridge and the segment that extends from I-270 to I-370. It will not include the segment of the Capital Beltway between Interstate 270 and I-95, which would come with significant community impacts. Rather, that segment, along with other Beltway segments, will be considered by the Board of Public Works in the future.
"This agreement will provide Montgomery and Prince George's Counties with direct transit subsidies from the project's toll receipts, the details of which will be specified in a Memorandum of Understanding [MOU] between the state and the two counties. This MOU will be agreed upon prior to the Board's final award of a vendor contract.
"Also included in this agreement is a commitment by the state to work directly with our local governments to mitigate any environmental and community impacts stemming from the project, as well as a commitment - which will be memorialized in writing - to complete this project with union workers at union wages."
IN THE FACE of the climate crisis, this approach misses the mark, said Tulkin of the Sierra Club.
"Transportation is the leading source of climate pollution in Maryland. Our transportation strategy must, first and foremost, focus on reducing vehicle miles traveled and expanding mass transit," he said.
"In this New Year of 2020, we need to be honest about global warming and the impacts of our actions. You cannot expand highways and magically mitigate the carbon pollution. And the more people claim otherwise, the less credible they become."