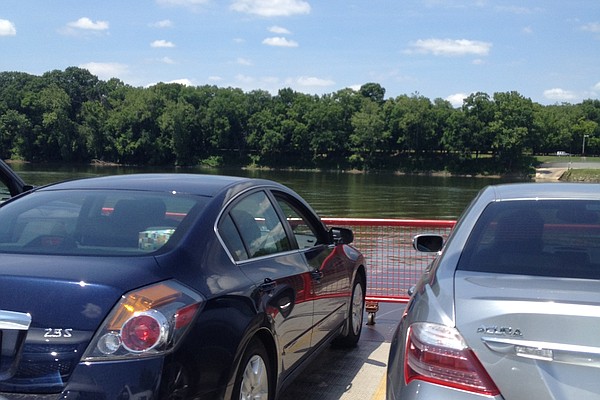 Wednesday, April 28, 2021
Chuck Kuhn now has multiple deckhands eager to help White's Ferry get back to business. "We stand ready and willing to reopen," said Kuhn, founder and CEO of JK Moving Services, who bought the historic ferry service in February.
After purchasing historic White's Ferry in February, Kuhn and his wife Stacy Kuhn encountered obstacles. Last week, they announced the opening would be pushed back up to 10 months before the famed ferry can carry commuters again.
"We will be seeking more help from the county and state to ensure this vital route serves our community and people," said Kuhn. "To restart, the ferry must gain use rights in Virginia."
Montgomery County and Loudoun County are now involved. The departments of transportation from both counties will study available options for resuming ferry service between the two counties at the historic White's Ferry location.
"Restoring the operation of a Potomac River Ferry between Montgomery County and Loudoun County as soon as possible is critically important to reducing travel times to and from Virginia for many of our residents," said Montgomery County Executive Marc Elrich. "This connection across the Potomac will also provide more Virginians access to Montgomery County businesses and our growing agritourism sector. Plus, the ferry ride is just plain fun."
THE STUDY is expected to begin within the next 30 days and be completed within 90 days of the start date, according to Montgomery County and Loudoun County documents.
"Our residents on both sides of the Potomac River need this ferry service to resume quickly," said Elrich.
The study's scope will include: roadway access and ferry use along with any other pertinent transportation issues; identifying legal and regulatory requirements associated with ferry operations; landing site improvements and landing location options; operating alternatives that may include a public/private partnership.
"Regional solutions require regional collaboration and we are grateful to Loudoun County for partnering with us, along with our state and local partners, so we can return the ferry service our residents and businesses need as quickly as possible," said Potomac's councilmember Andrew Friedson.
"Restoring this critical transportation connection across the Potomac River is essential to our regional mobility, economy, and quality of life," he said.
WHITE'S FERRY has operated since 1786, recently as an $8 cable ferry service that carried vehicles across the Potomac River between Poolesville and Loudoun County. But a few days before the New Year, White's Ferry operators announced that it would cease operations because of land disputes with Loudoun's Rockland Farm (NOT Rocklands Farm Winery in Montgomery County).
Kuhn finalized the purchase on Feb. 11, 2021, which includes the ferry, the store and the Maryland shoreline that supports the ferry operation.
"White's Ferry represents a piece of our region's past as an early commerce route that built and sustained local economies and remains so today. This fits with my family's interest in conserving land and history as well as supporting business and the local communities. White's Ferry has provided an important and scenic transportation alternative to the swelling demands on our local roads," said Kuhn, in February.
THE LAST OF the 100 ferries that operated on the Potomac River, White's Ferry connects Whites Ferry Road in Montgomery County to a road by the same name in Loudoun County. The ferry took 600-860 vehicles across the Potomac River each day through last year, according to the Loudoun County Department of Transportation.
White's Ferry ceased operations on Dec. 28, 2020, following a Circuit Court opinion in a private dispute over the use of private land for the ferry landing in Virginia.
Shore disputes between Maryland and Virginia date back to colonial times. In 2003, the Supreme Court of the United States settled a dispute between the Commonwealth of Virginia and the State of Maryland regarding Virginia's rights to draw water from the Potomac River, Virginia v. Maryland. The court ruled in favor of Virginia, citing the Maryland–Virginia Compact of 1785, an agreement between the two states concerning navigational and riparian water rights along the Potomac River.
"Since the closure, Loudoun County has been actively engaging the owners of the ferry and property on which the landing in Virginia is located to facilitate a resolution between the private parties involved. Loudoun County and Montgomery County strongly support the resolution of issues between private parties to re-establish daily ferry service as soon as possible at White's Ferry," according to documents from the Loudoun County Board of Supervisors.
"The ferry has ramifications for our local economy and the livelihoods of many people, from technology workers to retail employees to farm workers," said Kuhn. "The former ferry owner Herb Brown and his team have been a pleasure to work with as have all the municipalities and states—all of which are interested in protecting this important transportation route," said Kuhn.