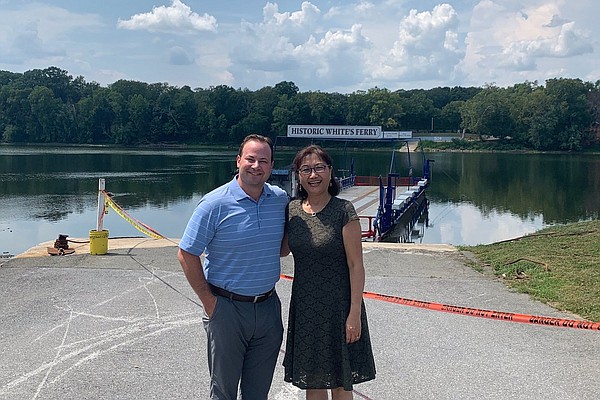 Wednesday, August 25, 2021
When Chuck and Stacy Kuhn purchased White's Ferry in February, they eagerly told their nine children the plan. "I went home and we were kind of excited about the investment, what we were doing to protect the ferry, and I told my son we bought White's Ferry," said Kuhn, owner of JK Moving Services.
"And he was like, 'You didn't buy a ferry. A ferry has two landings, Dad. You bought the Maryland shoreline and an old boat. You don't have a ferry," said Kuhn.
White's Ferry had operated since 1786 and was the last of 100 ferries that operated on the Potomac River, White's Ferry connected Whites Ferry Road in Montgomery County by a road by the same name in Loudoun County. The ferry took 600-860 vehicles across the Potomac River each day.
White's Ferry ceased operations on Dec. 28, 2020, following a Circuit Court opinion in a private dispute over the use of private land for the ferry landing in Virginia.
Shore disputes between Maryland and Virginia date back to colonial times. In 2003, the Supreme Court of the United States settled a dispute between the Commonwealth of Virginia and the State of Maryland regarding Virginia's rights to draw water from the Potomac River, Virginia v. Maryland. The court ruled in favor of Virginia, citing the Maryland–Virginia Compact of 1785, an agreement between the two states concerning navigational and riparian water rights along the Potomac River.
Kuhn was optimistic he would have the ferry running shortly after his purchase. "I'm sure we can get to a table and, man, this thing will be rolling like this," he said.
"I might have been a little too optimistic," Kuhn said at a Poolesville meeting last Wednesday, Aug. 18.
"I can assure you I put forth all of the effort that Stacy and I could put forth to work together with the Virginia shoreline to get this ferry open in some reasonable time line and some reasonable fashion. I hate to admit it, but I had to say, 'Uncle.' I couldn't get there from here regardless of our offers or our attempts. There was just no reasonable conclusion to the negotiations," he said.
Loudoun County and Montgomery County's Departments of Transportation got involved in April to study available options for resuming ferry service between the two counties at the historic White's Ferry location.
"The real fate of this ferry is going to lie in the hands of the Loudoun County Board of Supervisors. If the Loudoun County Board of Supervisors after they review the study that they have commenced supports eminent domain, we will get control of the Virginia shoreline and this ferry will open," said Kuhn.
Loudoun County Catoctin Supervisor Caleb A. Kershner offered his support.
"As soon as this ferry shut down...I started getting a lot of calls," Kershner said. "I am fully committed to anything I can do from my position on the Loudoun County Board of Supervisors to make sure this ferry operates and runs again. We are looking at a number of different options."
The study is expected to be completed in September. Loudoun County Board of Supervisors is expected to hear the study's findings in October at an information item before the Board. According to Kershner, it will require a majority of the Board to move forward with some type of action.
"We are continuing in hope that both parties will come to some type of agreement to get this up and running, but at this point, from our position, we are looking to do what we can to bring about a renewal of this ferry," he said.
Kuhn was asked if a third party negotiator could help.
"I hate to ever say no, right, because I think you always need to keep options open and I want to be careful. I've always learned you never regret taking the high road, so I don't want to air dirty laundry or the history of these battles before my time or during my time," said Kuhn. "What I will say is I have zero optimism that continuing to try to negotiate directly with or without arbitration, mediation, with the Virginia shoreline will be successful in opening the ferry. I've tried," said the accomplished businessman.
"I've exhausted my abilities to be successful there."