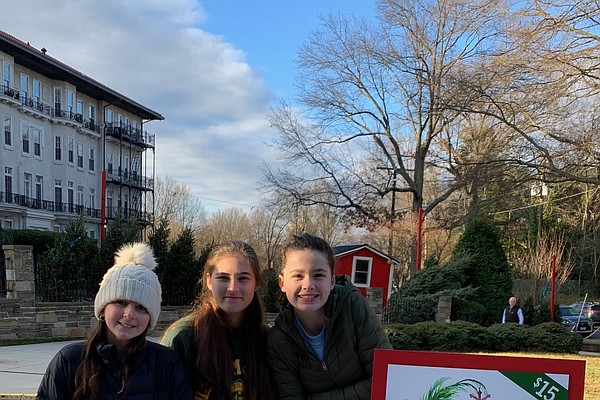 Wednesday, December 21, 2022
A dusting of flour covers the kitchen counter as well as the hands and faces of three Fairfax seventh grade students. Giggles fill the air as the girls roll dough on the dusted countertop to make sugar cookies. These sweet treats, golden brown and coated with sugar crystals, come with a backstory. Not only are 
Emily Talbott, Molly Hobart and 
Keaveny
 Mullins
 rolling, cutting and baking they are preserving family traditions. They've captured those traditions in a new cookbook filled with holiday family recipes. 
"I've always made sugar cookies with my grandma," said Emily. "We deliver them to people in nursing homes at Christmas."
The twelve-year-old girls, friends since kindergarten, each come from families who use baking as a creative outlet between Thanksgiving and Christmas. This year, they decided to compile their favorite holiday dessert recipes into a cookbook, titled "Faith, Family and Food." The proceeds will be donated to Project Hope, an international humanitarian relief organization.
"We've always talked about the desserts we baked during the holidays," said Keaveny. "As a project for Advent, we decided to do something to help those in need." 
A bustling kitchen is what Emily has come to expect each weekend during the holiday season. She can often be found churning butter and sugar to make sprinkle cookies while her mother sifts flour and espresso powder for chocolate cake and her grandmother whisks brown sugar and pecans for cinnamon rolls. The rolls, soft and gooey and dripping with icing that is both sweet and salty, are a nod to her family's Swedish heritage.
"There are always the most amazing scents in our house," said Emily. "You can smell sugar and butter. It's so good." 
While not hailing from a family of traditional bakers, Molly and her mother can be found dipping fresh berries into melted milk chocolate. The sweetness of the berries and the richness of the chocolate sauce not only combine to make a simple dessert, but they also strengthen a bond between parent and child. 
"These are easy and don't take a lot of time to make, but I get to spend a lot of time with my mother," she said. "We make these every year and deliver them to our family members."
Cream cheese, butter and cinnamon are blended and baked to create sweet and spicy pumpkin cake that Keaveny and her family eat on Christmas Eve.
"After mass, we have the most amazing dinner," she said. "I make this cake and we have it for dessert.
The girls hint that their cookbook, which weaves history and faith with family holiday tradition and food, might be the first step on the road to fulfilling their culinary aspirations. 
"Maybe we'll make cooking videos using our dessert recipes one day," said Emily. "We have to fit it around our homework and hockey practice."