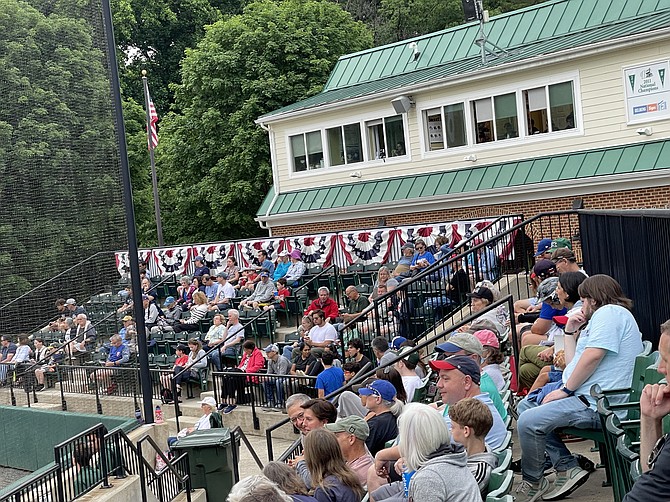 Before Hunter Renfroe became an outfielder for the San Diego Padres, Tampa Bay Rays, Boston Red Sox and now the Milwaukee Brewers, his "host mom" Becky Crowley promised him a steak dinner whenever he hit a home run for the Bethesda Big Train at Cabin John Park's Shirley Povich Field.
Renfroe hit 8 home runs and batted .305 the first year he played for the Big Train in 2011. After his next season at Mississippi State, he had opportunities to play in the Cape Cod Baseball League and for Team USA in the Olympics. 
But Renfroe chose to return to Bethesda and the Big Train, and to Crowley, his "host mom" in Olney. Big Train's Manager Sal Colangelo vividly remembers receiving a call from Renfroe's college coaches before the next Big Train Season.
"Hunter wants to come back. Do you have a spot for him," Colangelo remembers being asked.  
"Is the Pope Catholic?" he said.
"Everything he did, he worked for," said Colangelo.
Renfroe set records the next year that still stand in the Big Train record books: 16 home runs and 53 runs batted in.
"Hunter, I can't keep up," Crowley said of the steak dinners.
BIG TRAIN HISTORIAN Bill Hickman keeps track of how Renfroe and other Big Train Alumni are doing in MLB, the minor leagues, and other levels of professional baseball. 
Other players Hickman keeps an eye on in the Major Leagues this season include Ty France, a first baseman with the Seattle Mariners and a 2013 Big Train player; his teammate Logan Gilbert, a pitcher with the Mariners who played on the 2016 Big Train; Brandon Lowe with the Tampa Bay Rays (2014 Big Train); David McKay (2015 Big Train) with the New York Yankees; and Joe Mantiply, pitcher with the Arizona Diamondbacks (2010 Big Train). 
After 22 seasons, 43 percent of Big Train players continued to play professional baseball; 17 have made it to the major leagues.
"The biggest thrill was the very first time," said Hickman, referring to John Maine, who was drafted and played for the Baltimore Orioles, New York Mets and Miami Marlins, and was a 2000 Big Train player.  
"The feeling that we were seeing these college players play in this small ball park in front of 750 people and now they're going to play before 30,000 to 40,000 in the major leagues. Wow!" he said.
CROWLEY HAS TRAVELED to see Hunter Renfroe at Fenway, at Wrigley, in San Francisco and Cincinnati, and has a goal to see all 50 states while watching him and other players she has hosted. She traveled across the country to see him as he was rising through the minor league ranks to the big leagues.
"Hunter deserves everything he's getting, he's a wonderful guy," said Crowley, who has been honored by the Big Train for hosting a player every season since 2001.
The San Diego Padres selected Renfroe with the 13th pick in the 2013 MLB Draft. 
"I loved when he played in the minor leagues, too," she said.
IN THE MAJOR LEAGUES last year, Renfroe hit 31 home runs and had 96 runs batted in for the Boston Red Sox. He hit 33 home runs for the San Diego Padres in 2019. This season, as a Milwaukee Brewer, he has hit 10 home runs in 45 games, as of Monday, June 13, including one on Tuesday, June 7, the opening of this year's Big Train season at Cabin John and his first game back from the injured reserve because of a hamstring injury.
Manager Colangelo isn't surprised when his former players make it to the Big Leagues. "I usually think, 'Wow,' this is amazing that this young man gets to live out his dreams," he said.
Hickman is doing research on a project of pitchers in the Major Leagues who have just one win.
One of Hickman's favorite stories is 2011 Big Train alumni Ryan Garton, a pitcher who made his major league debut on May 26, 2016 for the Tampa Bay Rays. Garton had one win and one save, according to Hickman. 
"A Cinderella story," Hickman said. "He's a lot prouder of his save than his win."
BRUCE ADAMS also had a dream and vision. Adams, a former Montgomery County Councilmember (and Director of Office of Community Partnerships for more than a decade), co-founded the Ripken League, co-founded the Bethesda Big Train with John Oursiman, and led the construction of Shirley Povich Field.
This season is the 23rd season of the Bethesda Big Train at Shirley Povich Field. 
He calls the Big Train experience, "small town charm and Big League talent."
Adams co-founded the Bethesda Community Baseball Club in 1998 with the mission to improve youth fields in Montgomery County and Washington D.C. Big Train has invested more than $600,000 to improve baseball and softball fields.
In 2010, Adams initiated the Ripken League's annual Feed the Hungry Challenge that has collected more than 27 tons of food for the Manna Food Center. https://www.mannafood.org/
"It's an enormous boon to the community," said Hickman. "Not only do people get to see baseball, professional caliber baseball in the summer, there are so many non-profit organizations that get to come out and get in front of the microphone, to set up tables and promote what they do in the community."
Saturday night, June 11, the featured nonprofit was Nourishing Bethesda, which provides drive-through family food distribution at BCC Rescue Squad every Friday, 1-3 p.m., while supplies last. 301-654-7767 https://www.nourishingbethesda.org/
COLANGELO HAS LED the Big Train to nine regular season titles and eight league championships with a regular season record of 434 wins and 177 losses for a .710 average and a national championship.
"I have the best college baseball job in America," he said. "I'm blessed that Bruce trusted me to run the team since 2005."
Collegiate Summer Baseball Register ranked the Ripken League as the third and fifth best league in summer college baseball in 2018 and 2019. Big Train was ranked the nation's number six team in 2019, highest of any summer team in the country that wasn't with the Cape Cod League. In 2011, Perfect Game USA named Big Train the nation's top summer college team.
About 197 Big Train Alumni made it to pro ball, somewhere. Four became first-round picks, four were second-round picks and 3 were third-round picks to MLB.
About 159 colleges have had players come to play for the Big Train. 
"Players are the best recruiters," said Colangelo. "You build these relationships because they know you're going to treat them right."
In addition to the 17 players from the Big Train who have made it to the Major Leagues, an additional 22 alumni have played with Major League teams in spring training games. Also, after 15 seasons, 440 Ripken League alumni have been drafted by major league teams and thirteen players have signed as free agents.
Some players use experiences they gain in the summer in Bethesda for different careers. "I really enjoy seeing what happens to the players after they leave," said Hickman. "It gives me a positive outlook."
SUCCESS OF THE BIG TRAIN, "all starts with the host family," said Coach Colangelo.
Emily Waldman and her family hosted their first Big Train player in 2013. Now, she is the co-host family coordinator with Amy Matush and helps find families interested in hosting Big Train players for the summer.
"The closeness that Becky feels with her players is not unique," said Waldman. 
"There's no financial incentive, so the people who want to host really want to host. The families tend to be really excited about doing it," she said.
Waldman got involved partly because she remembers her family hosting opera singers when she was growing up and wanted her children, who played baseball, to have a similar type of experience. 
"We would go to every game at home, a lot of away games, that was our evenings. It meant that we organized our vacations and activities with what was happening with the Big Train schedule," said Waldman. "We kept doing it because we enjoyed the experience."
Crowley remembers her first two players back in 2001, she calls them by first name, Chris (Welsch) and Brady (Glass). 
"They got me a book and taught me how to score a game," said Crowley. "You watch the game differently and people start talking to you."
Waldman calls the volunteer work that host families do "a leap of faith," and not just for the families hosting the players, but for the players and the players' parents, too. 
Crowley wanted her players to be able to just focus on baseball while they are here in Bethesda. And now Crowley focuses on baseball here in Bethesda and throughout the country as her players make it to the minor leagues or become adults doing whatever they do.
"I can't tell you how many weddings I've been to," she said. 
When she describes watching the Big Train, she describes the vision Bruce Adams had when he founded the team.
"It's like being in a small town, it's a wonderful baseball, and you meet these wonderful people," she said. 
At Big Train games, "everyone talks, everyone is interested in all the players and I have inside information," she said. "It's good baseball, it's fun."
Crowley lives closer to the Big Train competitor, the Olney Cropdusters, but she and Bruce Adams have a deal. 
"Bruce says, 'You're staying with me,'" she said.
Colangelo and Crowley have their own deal, said Colangelo, who has been the Big Train's manager since 2005.
"She does anything and everything for the kids. She has the biggest heart, she really becomes a Mom to them," said Colangelo.
"We have a deal; when she retires, I retire," he said.
2022 Home Games
Shirley Povich Field, 10600 Westlake Drive, Cabin John Regional Park
See www.bigtrain.org
Thursday, June 16, D.C. Grays, 7 p.m.
Saturday, June 18, Gaithersburg Giants, 7 p.m.
Sunday, June 19, Silver Spring-Takoma Thunderbolts, 7 p.m.
Saturday, June 25, Alexandria Aces, 7 p.m.
Thursday, June 30, Olney Cropdusters, 7 p.m.
Saturday, July 2, Gaithersburg Giants, 7 p.m.
Sunday, July 3, D.C. Grays, 7 p.m.
Tuesday, July 5, All-Star Game, 7 p.m.
Thursday, July 7, Silver Spring-Takoma Thunderbolts, 7 p.m.
Saturday, July 9, Metro SOCO Braves, 7 p.m.
Wednesday, July 13, Gaithersburg Giants, 7 p.m.
Friday, July 15, Metro SOCO Braves, 7 p.m.
Saturday, July 16, Olney Cropdusters, 7 p.m.
Monday, July 18, D.C. Grays, 7 p.m.
Thursday, July 21, Alexandria Aces, 7 p.m.
Celebrating Diversity Nights
The Bethesda Big Train has retired the numbers of Jackie Robinson (No. 42), Roberto Clemente (No. 21) and Hank Greenberg (No. 5). This season, the team held the inaugural Clarence 'Pint' Isreal Juneteenth Classic on Sunday, June 12; Israel was star in the Negro Leagues who was from Rockville.

Sister Cities Night, Saturday, June 25, 7 p.m., will honor Montgomery County's sister cities and the 50th Anniversary of Title IX.

Big Train Pride Night, Thursday, June 30, 7 p.m., the first Pride Night at Shirley Povich Field.

Native American Baseball, Wednesday, July 6, 7 p.m., an exhibition game with the Virginia based Native American National Baseball Team.

Jewish Baseball Heritage Night, Thursday, July 7, 7 p.m. Featuring documentary filmmaker Aviva Kempner who will discuss her classic baseball films, The Life and Times of Hank Greenberg and The Spy Behind Home Plate.

First Annual Roberto Clemente Community Service Day, Saturday, July 9, 7 p.m. Tribute to Latin Baseball Night.
Big Train Major League Players (So Far)
John Maine, 2000 Big Train
Baltimore Orioles
New York Mets
Miami Marlins
Major League Baseball Debut: July 23, 2004
Steve Schmoll, 2000 Big Train
Los Angeles Dodgers
MLB Debut: April 6, 2005
Charlton Jimerson, 1999 Big Train
Houston Astros
Seattle Mariners
MLB Debut: Sept. 14, 2005
Bobby Livingston, 2001 Big Train
Seattle Mariners
Cincinnati Reds
MLB Debut: April 25, 2006
Dirk Hayhurst, 2001 Big Train
San Diego Padres
Toronto Blue Jays
MLB Debut: Aug. 23, 2008
Michael McKenry, 2004 Big Train
Colorado Rockies
Pittsburgh Pirates
St. Louis Cardinals
MLB Debut: Sept. 8, 2010
Brian Dozier, 2006 Big Train
Minnesota Twins
Los Angeles Dodgers
Washington Nationals
New York Mets
MLB Debut: May 7, 2012
Mike Costanzo, 2003 Big Train
Cincinnati Reds
MLB Debut: May 13, 2012
Cody Allen, 2008 Big Train
Cleveland Indians
Los Angeles Angels
MLB Debut: July 20, 2012
Matt Bowman, 2010-2012 Big Train
St. Louis Cardinals
Cincinnati Reds
MLB Debut: April 6, 2016
Ryan Garton, 2011 Big Train
Tampa Bay Rays
Seattle Mariners
MLB Debut: May 26, 2016
Joe Mantiply, 2010 Big Train
Detroit Tigers
New York Yankees
Arizona Diamondbacks
MLB Debut: Sept. 3, 2016
Hunter Renfroe, 2011-2012 Big Train
San Diego Padres
Boston Red Sox
Tampa Bay Rays
Milwaukee Brewers
MLB Debut: Sept. 21, 2016
Brandon Lowe, 2014 Big Train
Tampa Bay Rays
MLB Debut: Aug. 5, 2018
Ty France, 2013 Big Train
San Diego Padres
Seattle Mariners
MLB Debut: April 26, 2019
David McKay, 2015 Big Train
Seattle Mariners
Detroit Tigers
New York Yankees (40-man roster)
MLB Debut: May 20, 2019
Logan Gilbert, 2016 Big Train
Seattle Mariners
MLB Debut: May 13, 2021
* Source: Bethesda Big Train
Photos below by Mary Kimm: