Armed with a baseball bat and fueled by anger, a man seeking Congressman Gerry Connolly in his Fairfax City office, Monday morning, violently assaulted two members of Connolly's staff before being subdued and arrested by local police.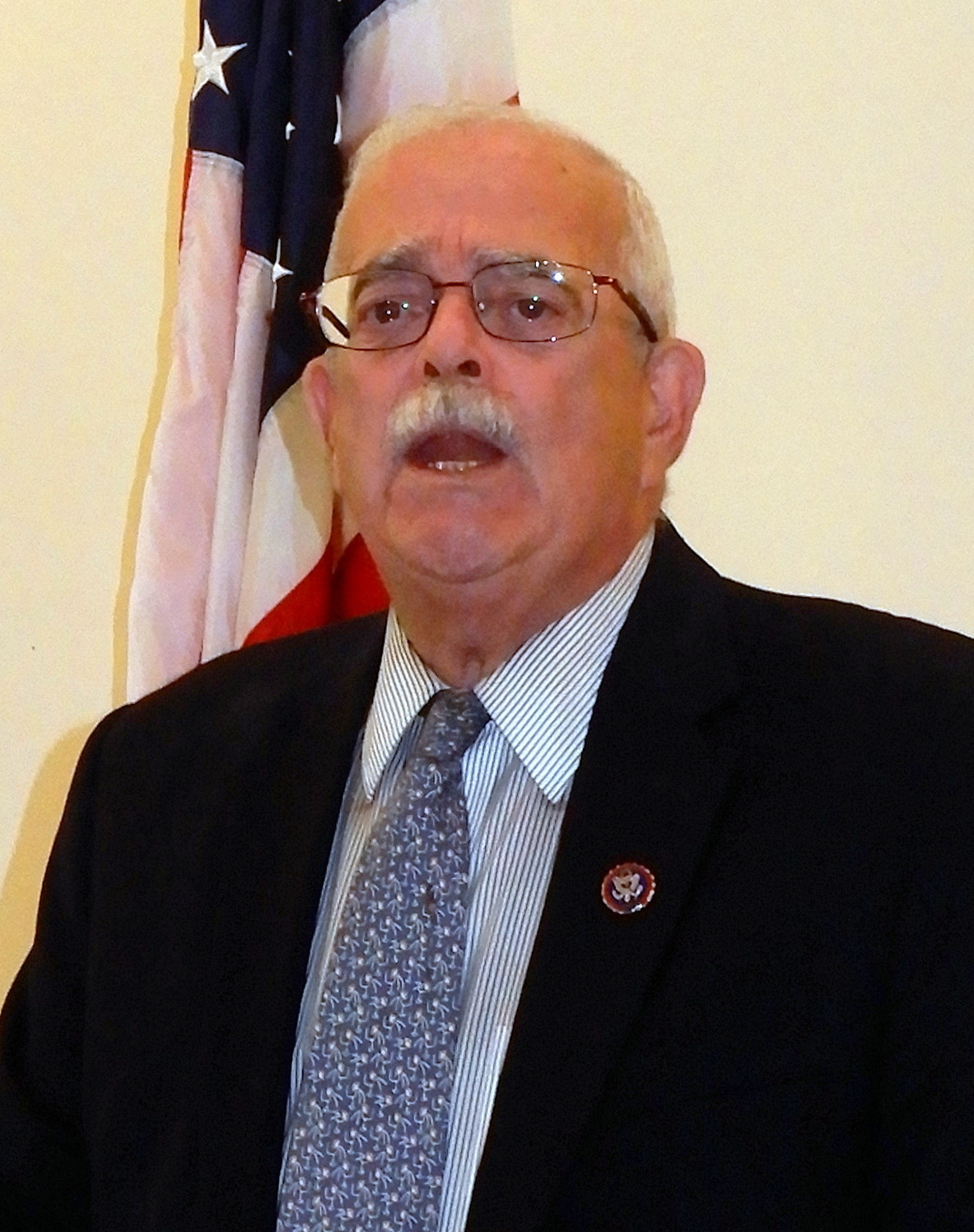 Later that evening, authorities revealed it wasn't the man's first attack of the day – and that, about 15 minutes before arriving at the U.S. representative's 11'th District office – he allegedly committed a hate crime in Chantilly's Greenbriar community.
Ultimately charged with four felonies for the two events, the alleged perpetrator, Xuan Kha Tran Pham, 49, of Greenbriar, is now being held without bond in the Fairfax County Adult Detention Center. At press time, no motive had been determined for the attack on Connolly's staffers. But according to Pham's parents – with whom he lives – their son has mental-health issues. 
Meanwhile, after the incident in Connolly's office, Special Agents with the U.S. Capitol Police Threat Assessment Section were dispatched to Fairfax. They're now coordinating with City of Fairfax police and the FBI's Washington Field Office on this case.
Fairfax City Police spokeswoman Lisa Gardner said police responded at 10:49 a.m. to a call about an active assault at 10680 Main St., Suite 140. When police arrived, she said, the staffers were "scared and hiding" in the office. 
"One of the biggest challenges we face today is dealing with the sheer increase in the number of threats against members of Congress – approximately 400 percent over the past six years."
— U.S. Capitol Police Chief Tom Manger
"Investigation revealed that the suspect, Xuan-Kha Tran Pham, entered Connolly's District Office and [reportedly] assaulted two Congressional staffers with a metal baseball bat," said Gardner. "The staffers received non-life-threatening injuries and were transported to a local hospital. One police officer also sustained a minor injury and is receiving medical treatment."
At the time of the attack, U.S. Rep. Connolly (D-11th) was at a ribbon cutting for a food bank in another section of Fairfax County. After asking for him by name and learning he wasn't in the office, said Connolly, the assailant allegedly took out his frustration on the two staffers. 
He said his female outreach director was struck on the head with the bat, and a female intern in her first day on the job was hit on her side. They then fled to another office while the man broke glass windows and damaged office furnishings and computers.
Fairfax City police said Pham was taken into custody at the scene within 5 minutes of them receiving the call. The Criminal Investigations Division charged him with two felonies – aggravated malicious wounding and malicious wounding.
Distressed to learn about the attack that injured the two staff members, Connolly released a statement saying, "Right now, our focus is on ensuring they are receiving the care they need. We are incredibly thankful to the City of Fairfax Police Department and emergency medical professionals for their quick response."
Connolly served 14 years on the Fairfax County Board of Supervisors – including five years as chairman – before being elected to Congress in 2008. Ironically, he recently introduced a resolution in Congress honoring America's public servants.
"I have the best team in Congress," he said on Monday. "My District Office staff make themselves available to constituents and members of the public every day. The thought that someone would take advantage of my staff's accessibility to commit an act of violence is unconscionable and devastating."
Pham was a constituent of Connolly's and, according to the Washington Post, "Connolly said his office was working on a constituent issue for Pham" at the time of the incident, but he didn't know its specific details. Connolly said the man gave no previous indication that his actions on Monday could have been politically motivated. He also told the Post that responding City police officers subdued the assailant with a taser.
As for the earlier incident in Chantilly, Fairfax County police said that Monday, around 10:37 a.m., Pham allegedly approached a woman in the driveway of her Greenbriar home on Point Pleasant Drive, asked her, "Are you white?" and chased her with a bat as she screamed and fled from him. He then reportedly smashed her car windshield. 
The incident was caught on a neighbor's security camera, and – still holding his bat – Pham could be heard muttering Connolly's name as he walked away. After being arrested in Fairfax City, county police charged him with committing a hate crime and felony destruction of property. Meanwhile, a female Greenbriar resident said that, after Pham's parents moved into the community, they went door to door telling the neighbors their son had mental-health issues but wouldn't hurt anyone. And according to CNN, Pham's father said his son is "schizophrenic and hadn't taken his medication for three months."
The attack in Fairfax City also hit home for many residents, who were upset to hear about such brutality happening in their city. "Today the City of Fairfax witnessed a heinous attack on people working at the offices of Congressman Connolly," said Sen. Chap Petersen (D-37th). "My own family lives one block away – which underscores the immediacy of this event. As always, we are thankful to Fairfax City police for their prompt reaction."
Local residents responding to Fairfax City's initial Facebook post about the incident, Monday afternoon, also commented. Calling it "horrifying," Elizabeth Yingling hoped the staff members would be all right. And Diana Rhodes wanted the assailant "punished severely."
"So glad city police got there quickly, but so disgusted with the physical violence in our communities," said Maryann Clary. "It's unconscionable that someone thinks it's OK to enter an office and start hitting employees with a bat. We need solutions to all this daily violence. Thanks, City Police, for helping to keep us safe."
"Thank God the guy didn't have an automatic weapon," wrote Cathy Schroeder. "They would have been slaughtered."
In addition, Marcy Cochran responded to an individual's Facebook post about the attack on Connolly's staff. "After all he's done for this district, for government workers and for the country, how mislead would a person have to be to do that?" she wrote. "Gerry has always prided himself on being approachable by anyone with an issue to discuss. And for his staff, the best of public servants, to be attacked is something that should be unthinkable in society." 
Calling it another "deeply upsetting episode" happening in the U.S., Cochran wondered, "How do we reach a person before they become a terrorist? How can we work to prevent the harm they do when they become so delusional (that) they think it's okay to act out this way?"
U.S. Sen. Mark Warner also issued a statement, saying, "Intimidation and violence – especially against public servants – has no place in our society. This is an extraordinarily disturbing development, and my thoughts are with the staff members who were injured."
"Violence does not belong in our political system, and my prayers are with Rep. Gerry Connolly's staff for a speedy recovery," added Gov. Glenn Youngkin. "We've seen this against our judiciary and our legislative branch, and it has no place in our commonwealth."
However, in America's increasingly toxic atmosphere of pervasive hate speech, U.S. Capitol Police said that last year, they investigated some 7,500 cases of potential threats against members of Congress. In a press release after Monday's attack, they referred to U.S. Capitol Police Chief Tom Manger's recent comments about the "heightened threat climate" across the country.
"One of the biggest challenges we face today is dealing with the sheer increase in the number of threats against members of Congress – approximately 400 percent over the past six years," he said. "Over the course of the last year, the world has continuously changed, becoming more violent and uncertain." 
Manger was police chief in Fairfax County from 1998 to 2004.